The Seventh
File:The_seventh.png
The Seventh

First posted

November 17th, 2012
The Seventh
is one of the STC tumblr story arcs. It is about Lavender's attack from a Seventh, and all the sacrifices she makes from it.
Description
Edit
When Lavender is caught sneaking back inside with torn up, bloodied clothes at 3 in the morning, the she-cat's parents grow determined to figure out her secret - but are completely unaware of the extreme danger they'll be putting Lavender - and themselves - into.
The Seventh
Edit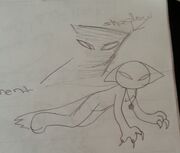 The Seventh
is a mythical creature with endless abilities. Seventh's have magical power, but the price of their over ability is being a monster. Sevenths will attack anyone, when bitten they become Sevenths too. Their name comes from the shadow in the dark shaped like the number 7.